A Rubber Tyred Gantry Crane, or RTG, is a tyre-mounted gantry crane that can be easily moved across large outdoor yards, workshops, or factories. Being tyre-mounted, it does not require any permanently fixed rails, leading to extreme flexibility in movement across the shop or yard area thanks to indigenously developed electronic steering controls. ElectroMech is the first company in India to develop steerable and electrically operated RTG cranes.
Rubber Tyred Gantry cranes are the ideal choice for various infrastructure construction projects where flexibility in material handling is essential. They can handle objects, such as precast segments, steel structures, pipes, concrete slabs, etc. Besides construction, eRTG cranes can also be used in the wind energy sector to handle long tower sections, wind blades, and turbines. Furthermore, in the process equipment manufacturing industry, eRTG helps transport equipment to storage yards and further loading it onto trailers. eRTG is useful where the terrain is unsuitable for installing gantry cranes or where temporary project facilities are being used. eRTG has been designed in such a way that it can be easily dismantled, transported, and installed at different locations.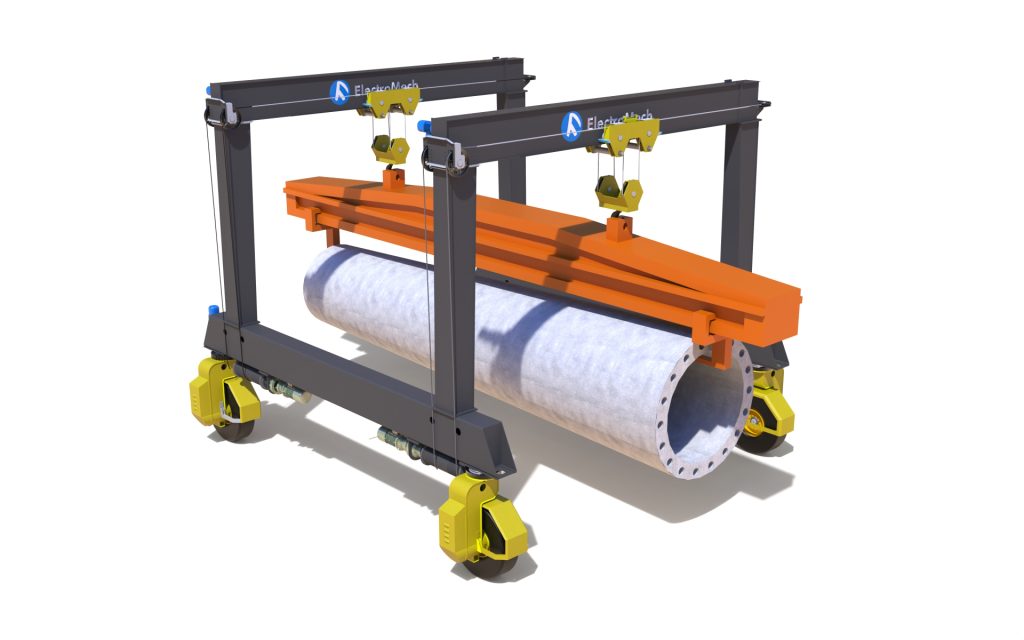 Unlike traditional hydraulic-operated RTGs, eRTGs operate on electric motors, eliminating the problem of oil leakage. The use of electric motors also has several benefits over conventional hydraulic RTGs. One of the main benefits is that eRTGs produce fewer emissions, which helps reduce the environmental impact of material handling operations. Additionally, electric motors are more efficient than hydraulics and require less maintenance, resulting in lower operating costs.
eRTGs are also equipped with advanced features such as a load indicator, a gradient limiter, and other sensors that ensure the highest level of safety. eRTG can be operated by a single person with a remote control.
Salient Features of eRTG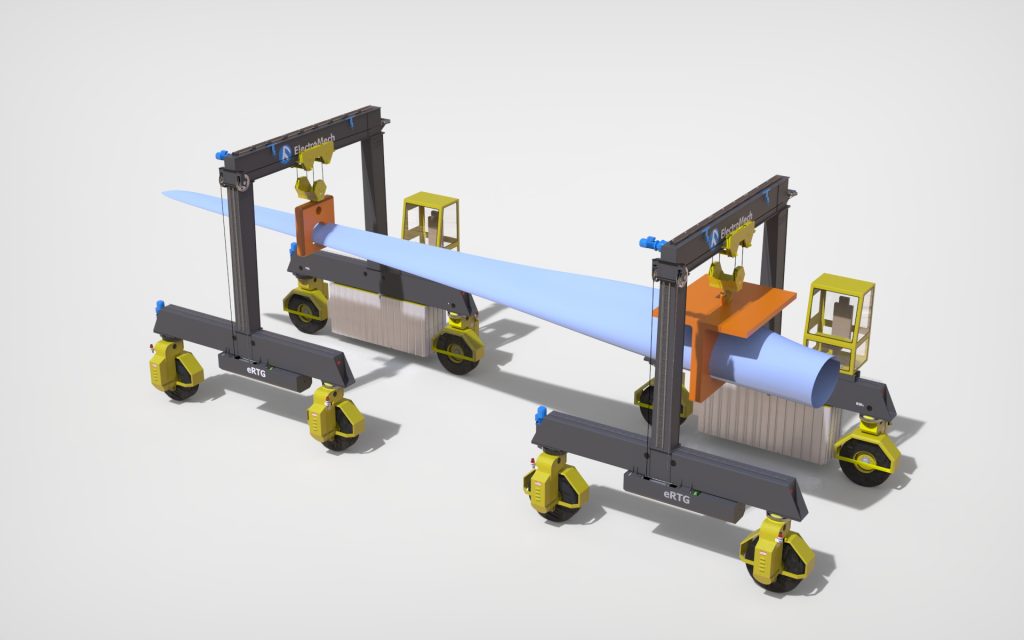 Flexibility: The ability to operate on uneven surfaces with gradeability up to 5%
Electrically powered: no hydraulics are involved (neither a power supply nor a runway is required).
Turns Easily: Thanks to the built-in steering controls, it can easily negotiate turns.
Intact Floor: There is constant pressure on the floor, irrespective of the amount of load lifted.
High Safety: Safe handling of long, heavy, and odd-shaped items
Versatility: Capability to work on various surfaces, e.g., concrete, asphalt, compacted floor
Reliability: ElectroMech's proven technology equipment with guaranteed service support.
Portability: Can be conveniently disassembled and transported.
Low Cost of Ownership: low maintenance, high uptime, high productivity, low expenses on developing infrastructure.
Robust structure: designed for dynamic loading conditions.
Why Choose Us?
eRTG from ElectroMech is an innovative solution for your material handling requirements to move loads easily in all directions and on various surfaces. These features make it the perfect choice for industrial, infrastructure, wind energy, and other sectors to address various load-handling challenges competently.
eRTG is available in different capacities of 20 t, 32 t, 63 t, 80 t, 100 t, and 125 t. It is also available with single-beam and double-beam arrangements; suitable beam arrangements can be selected for handling depending on the size of the objects.
Write to us to get the best value, at the best price!