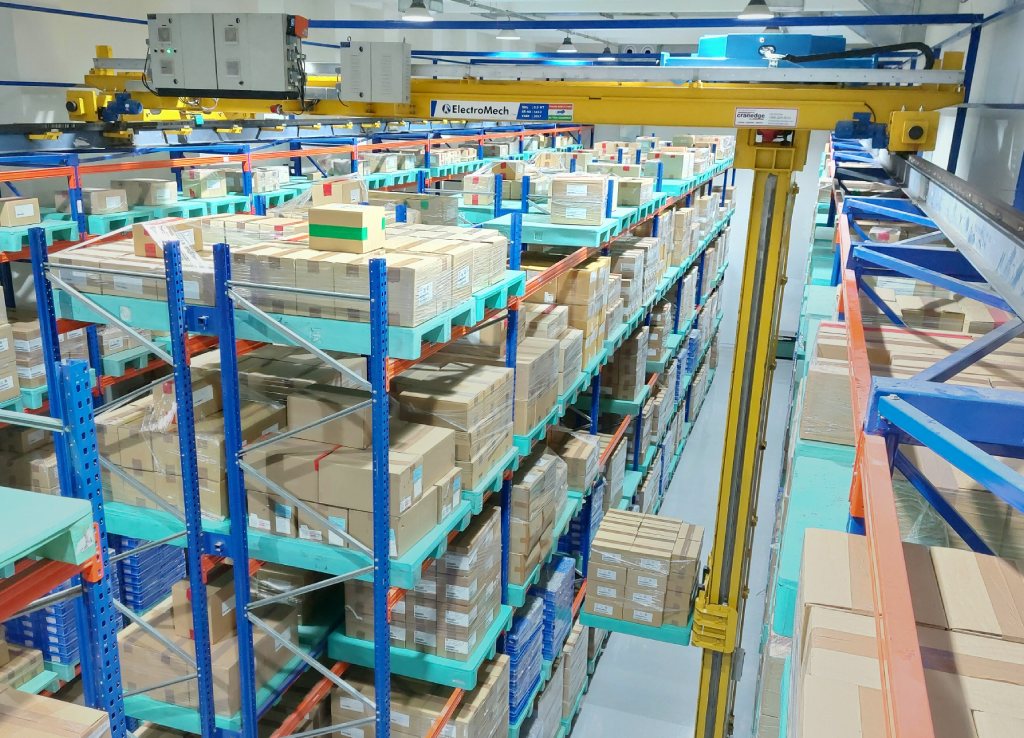 At present, optimum utilization of space by value and floor area is critical whether it is your warehouse or a manufacturing facility. This is particularly pertinent in metros, with the exponentially rising land and construction costs or an existing facility with limited space availability. Thus, in today's competitive markets, business owners are looking for cost savings wherever they can make one.
A material handling solution that is used extensively to perform the automated storage and retrieval of goods is the Stacker Crane. They are known for their versatility as they adapt easily to the requirements of any industry in terms of dimensions, load capacity, working cycles, etc. and they can be used for many applications. They are often used in warehouses that stack frozen food, medicines etc. which mostly operate in freezing temperatures. This automated stacking prevents warehouse workers from working below-freezing temperatures. However, the most important application of a stacker crane is to store and retrieve products from the racks by moving on a track in an aisle of the warehouse or any other storage facility.
ElectroMech and their Solutions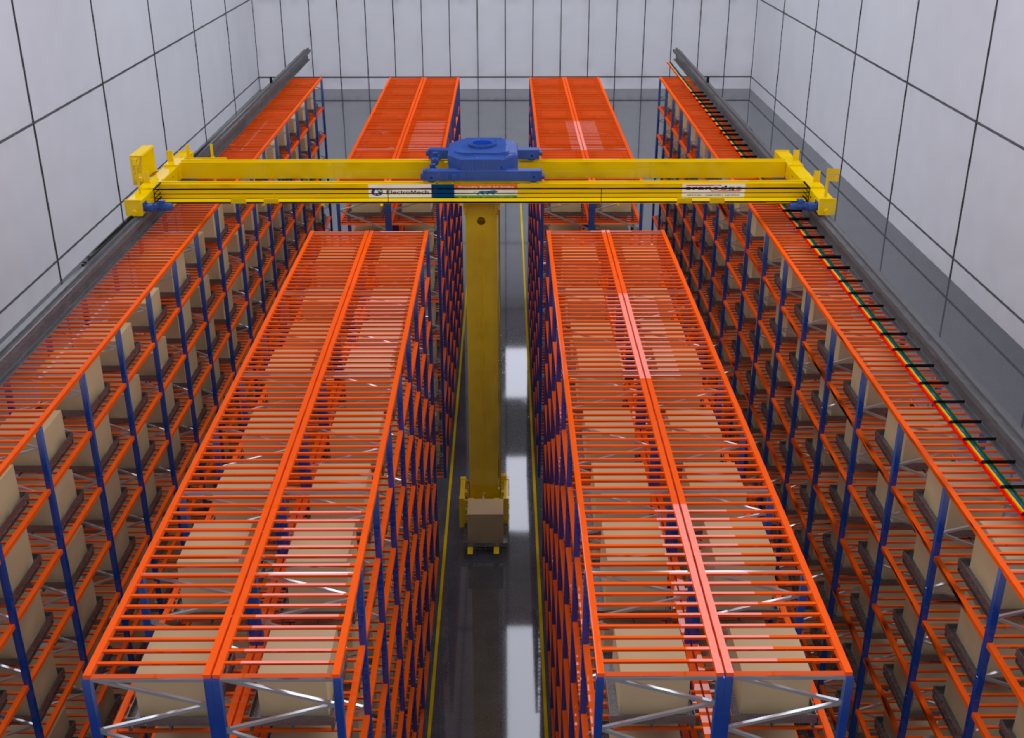 ElectroMech has been very industrious while innovating material handling solutions such as stacker cranes and has found success in helping many industries overcome their handling challenges. We design and manufacture stacker cranes that are a combination of an EOT crane and forklift. Our solutions are designed to work in narrow aisles and are supported by racks without the need for additional structures for movement. Being electrically operated, the emission of harmful exhaust fumes is prevented and being mounted on racks there is no danger of them tipping over.
A Case Study!
A growing pharmaceutical company experienced a material handling challenge and wasted no time in contacting our Crane specialists. Below is how we helped them overcome their challenge:
The Challenge
The first and major challenge was the space constraint between aisles at their medicine storage warehouse facility.
The warehouse operates on a high volume and multiple shift basis where medicines are moved round-the-clock in three shifts. This mandated the material handling solutions to work efficiently on 24×7 basis with little or zero downtime. Also, the solution required to move pallets from the racks to the trucks.
Another challenge was concerned with the high value medicines for life threatening diseases like cancer that are distributed in comparatively low volumes. These medicines need to be accessed on a per-packet basis as opposed to the per-pallet basis. As the warehouse deployed cranes that worked on Automated Storage and Retrieval System (ASRS) technology, it had to be moved to manual mode to retrieve medicines from the rack. This leads to considerable loss of efficiency and productivity.
Lastly, they demanded the solution to be low on investment and efficient high on productivity.
Our Solution
Our first solution was that of vertical storage, with this solution they would be able to maximize its space utilization and be able to store more volumes of medicines in the same warehouse space. Our solutions would also enable efficient material movement on a per pallet or per-packet basis, as was required.
Use of three stacker cranes having SWL of 0.5t each with the lift height of 7m and a span of 14.3m each, which makes the solution optimally cost-effective and provides an efficient option for switching between manual and automated operations
Nearly zero downtime for round-the-clock operations in high volume and multiple shift operations
From customized designs to intelligent warehouse management, ElectroMech helps you reduce operating costs while offering the reliability and flexibility you need to manage inventory as efficiently as possible. For more information, visit the www.emech.com.