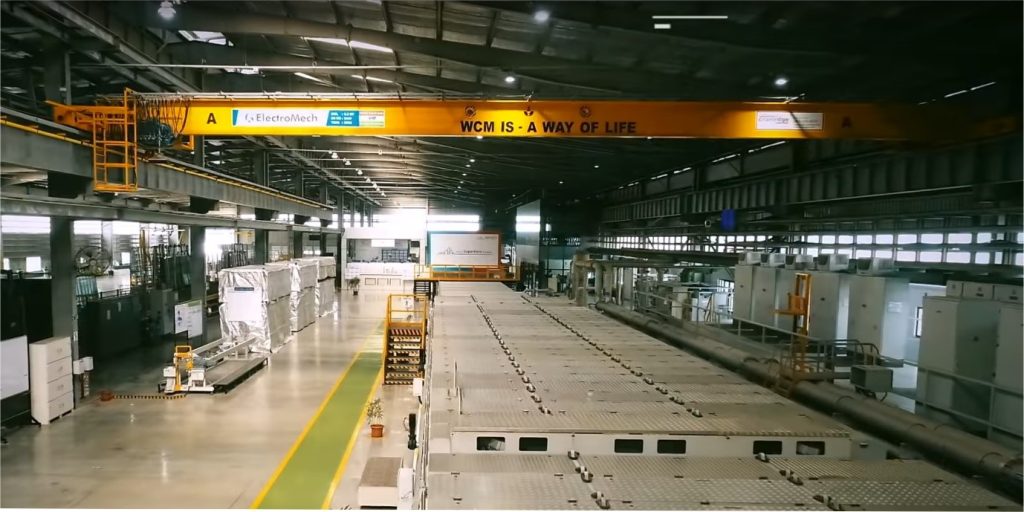 Safe and efficient handling of heavy, delicate and over-sized pieces of glass is of utmost importance for glass manufacturing companies. The correct glass handling equipment goes a long way in reaping benefits for companies of all sizes and strengths. Material handling equipment plays a pivotal role in every department of a business, from downsizing the labor required to reducing installation time to efficient shop floor management. The right glass handling equipment also ensures increased productivity and reduction in breakage due to errors and accidents. However, the question that troubles every glass manufacturing industry is from where they can commission such equipment that suits their requirements and conforms to their safety norms.
Well, your quest ends with ElectroMech!
Engineering a customized material handling solution requires precise and careful consideration of various aspects such as complete study of the factory/jobsite, thorough analysis of the existing and required material handing requirements, the production speed and the work flow environment along with plant integration. ElectroMech' competence of designing efficient material handling solutions comes from our ability to not only fulfill your existing requirement but also keep room for future requirements and expansion.
A Case-Study!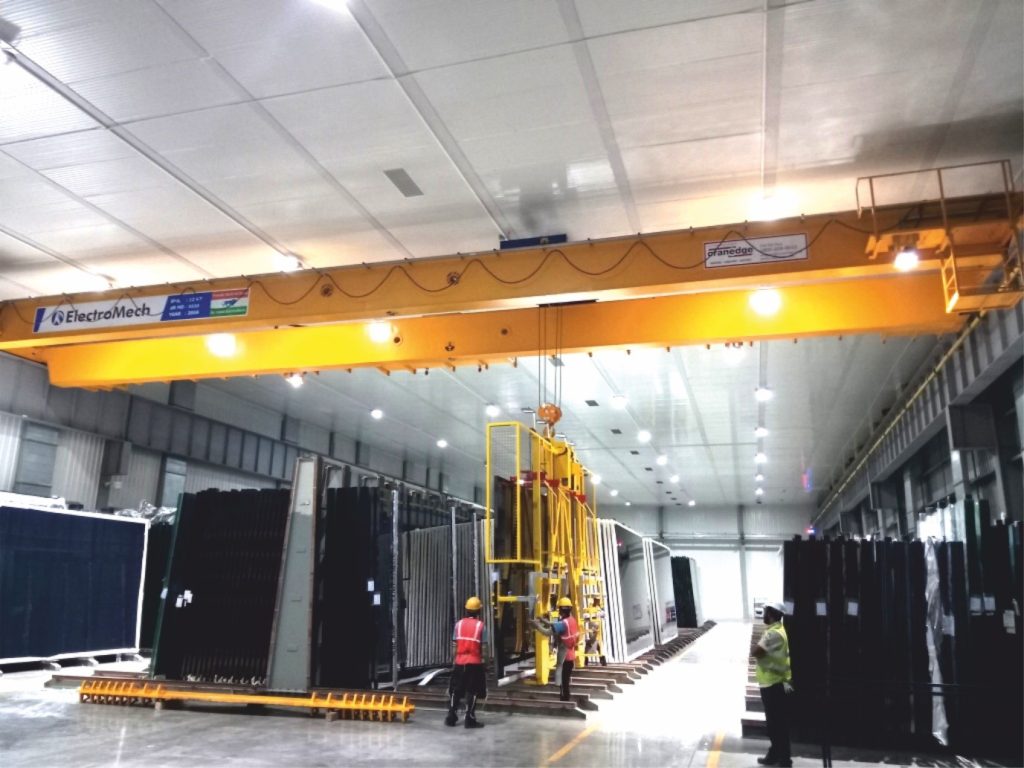 The case in hand is of the 350-year-old French multinational glass manufacturer, who faced a material handling challenge for its new plant that was commissioned with an advanced Magnetron Coater and glass solutions line. Now, why exactly are these two advanced features so critical for the glass manufacturer, the answer lies below –
Magnetron Coater – It is mainly used to coat glass surfaces with thin, nano layer coatings of various materials that makes the glass resilient to sunlight and varying temperatures. Such are the variants of glass coatings that they require bigger chambers and bigger coaters and bigger the material handling equipment.
Glass Sheet Stacking – After coating, large glass sheets are stacked, packed, and stored in separate yards. These coated glass sheets come in various thicknesses and sizes, the largest being 4m x 5m and mostly weigh around 4t and shall we say again, they need to be handled carefully.
For the above discussed features, overhead cranes are considered to be the most optimal material handling solution. However, the challenge was not the handling of the equipment but from where and how to commission an overhead crane design that meet their new plant requirements. The new plant, although massive, allowed a low headroom for overhead cranes and changing the design and to influx more capex into the plant was not an option. This is when, ElectroMech came to their rescue and resolved their issue.
Our Solutions
Having listed the requirements of the glass manufacturer, ElectroMech suggested using single girder cranes in the Magnetron Coater bay and double girder cranes for the glass stacking area.
To address the challenge of headroom height, we suggested using Abus DA model hoists. The headroom provision in the design of the new factory building was merely 790mm, whereas cranes using Abus DA model hoists require only 760mm. This was a relief for Saint-Gobain as they could go ahead with the factory construction as per the original plan.
DA model hoist is a unique product from our partner Abus Crane Systems, Germany, and is specially designed for low headroom spaces. Its compact, sleek design requires very less space and lower headroom compared to almost all other hoists available in the market.
Benefits to the Glass Manufacturer
Big savings on capex as they no longer needed to redesign the new plant.
Specially engineered fixtures to handle heavy and bulky loads in a safe manner
Continuous operation as our well-engineered cranes are meant to perform 24×7
Safe operation through several built-in features – a standard advantage with all ElectroMech cranes
Assured, reliable after-sales service through the expert team of Cranedge (Cranedge is a service subsidiary of ElectroMech)