Material handling in steel industry is all about lifting heavy loads and handling hot liquid metals. The material handling equipment used in steel sector are exposed to extreme conditions and temperatures; thus, safety and precise handling are of paramount importance while designing solutions.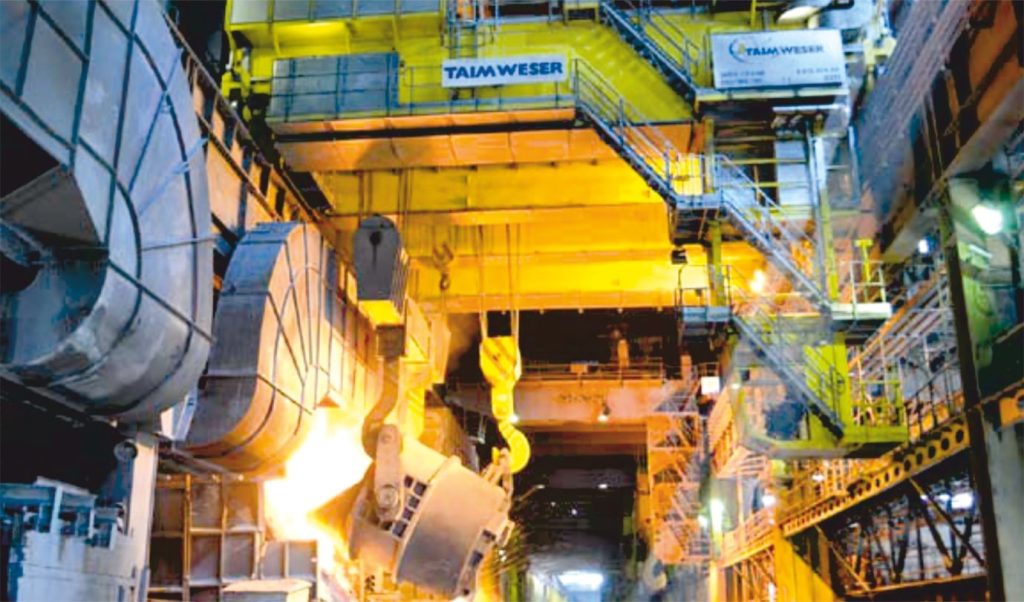 Understanding the Steel Industry and Use of Cranes –
Scrapyard – The process begins at the scrapyard, where the scrap metal arrives for smelting. A crane is required to unload this scrap at the plant as they arrive in tonnes and in different shapes and sizes. Electric Overhead Travelling (EOT) Cranes or Gantry cranes equipped with a grab bucket or magnet are used for scrap handling.
Smelting – A host of cranes are used during the smelting of scrap metals. The smelting area of the plant is exposed to extreme temperatures, hot liquid metal and flames. Cranes used during smelting are made to lift and carry buckets of liquid metals safely. Overhead, gantry, tundish and ladle cranes are installed during smelting process. They are basically overhead cranes attached with additional equipment to lift ladles with liquid metal.
Rolling Mill – The slabs and billets that come out of the smelters are hot and malleable and are moved to the rolling mill for casting. As the steel is hot for shaping, the cranes used for lifting needs to be equipped with additional load handling capabilities like detachable magnets and tongs. Rotating trolley or rotating beam cranes are used to move the slabs and billets to the storage areas.
Storage Area – EOT cranes are used to move around steel coils in the warehouse. Forklifts are mainly used to stack steel products on the high storage racks. It gives the ability to reach anywhere around the racks, where a crane can't go.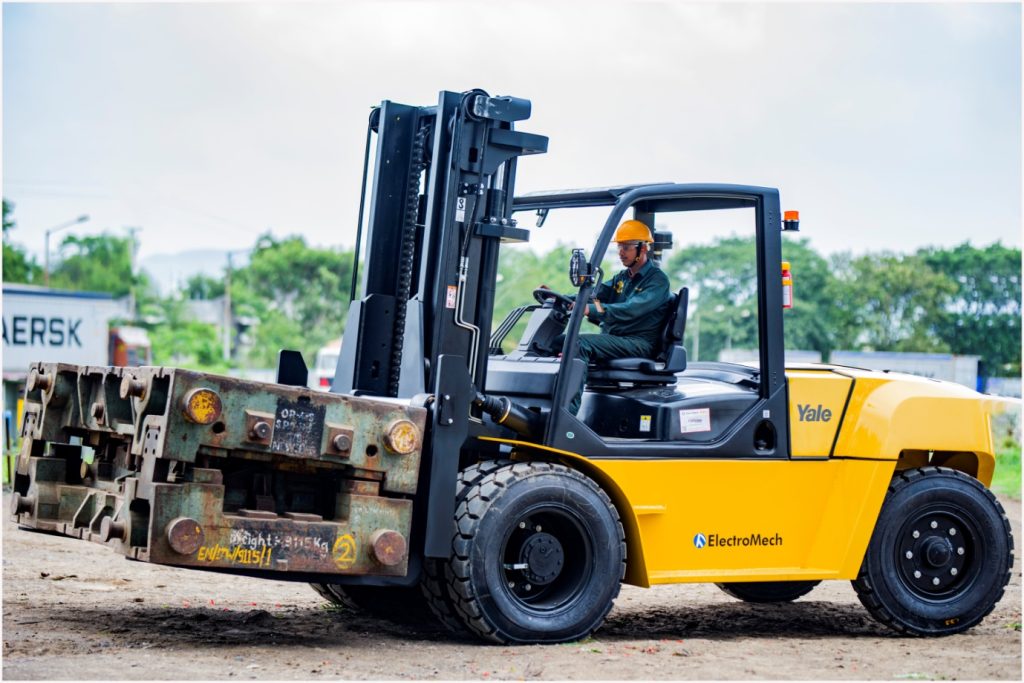 ElectroMech and Steel Sector –
ElectroMech provides solutions that are safe, reliable, durable and most importantly customized based on your requirements. We are well known in the steel industry for our innovative solutions which reduce execution time, enhance efficiency and increase productivity uptime.
Some of our innovative solutions include a large rotating mechanism mounted on a double girder crane to safely handle and rotate large and heavy plates up to 270° C with higher precision and speed. Two winches on one double girder crane which work in synchronisation and can easily lift larger plates and allow higher utilisation of the plant area.
In collaboration with Taim Weser, we offer application specific solutions such as high capacity liquid metal handling cranes for the sector, special purpose cranes for non-ferrous applications, Coker cranes for refineries etc.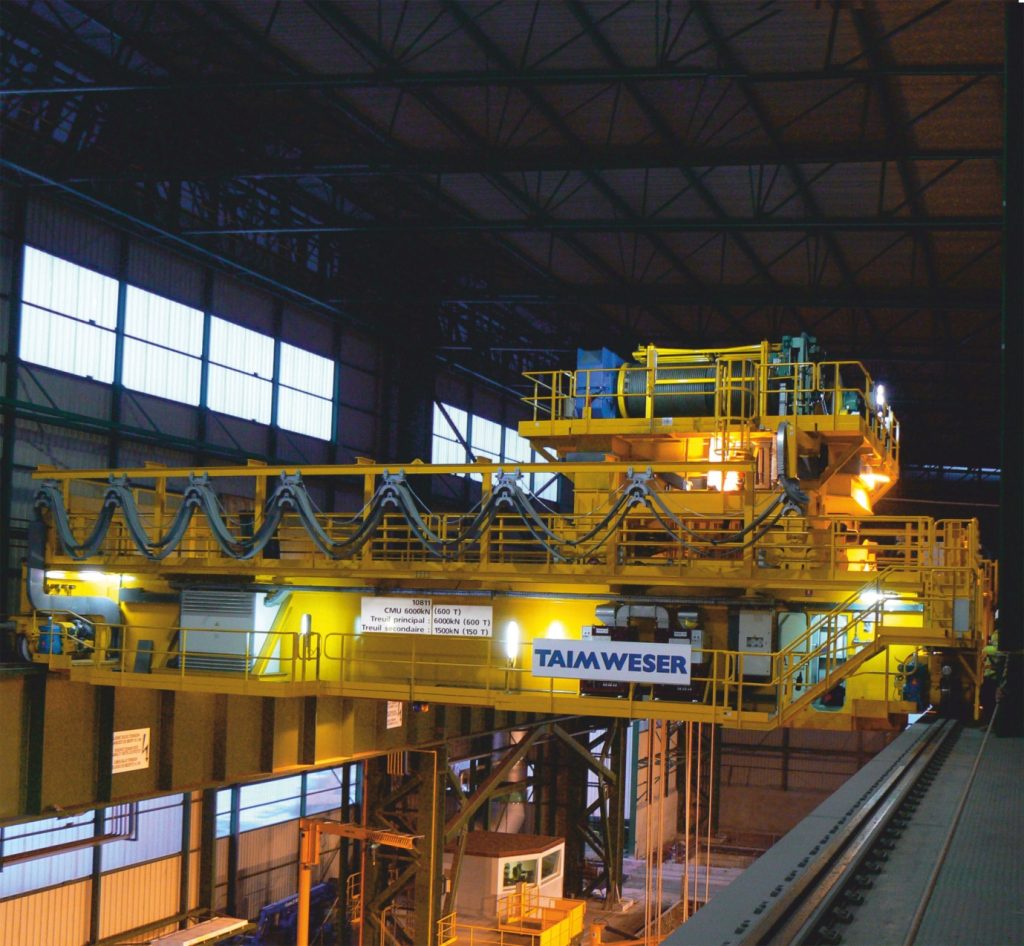 Why Choose ElectroMech?
Customized Solutions – We understand the steel industry and the whole manufacturing process. We also know the extreme environment in which these cranes operate in. Keeping this in mind, we at ElectroMech design solutions that can withstand harsh operating conditions and offer you safe lifting.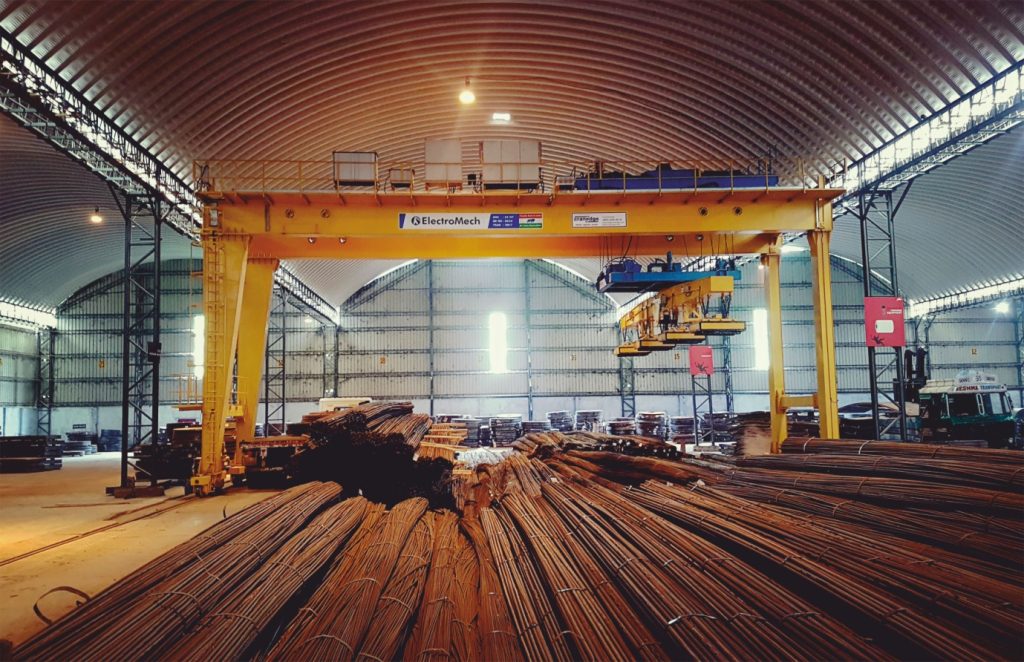 Safety First – Our solutions come with smart additional features such as sway control, radio remote monitoring with digital interface, anti-collision device, human sensors. These features make our solutions safe and easier to operate.
Easy Maintenance – We don't just provide solutions but also provide after sales service. We offer Annual Maintenance Contracts (AMCs) for round the year maintenance of your cranes. Our AMCs cover all components of your cranes to ensure their integrity and ability to perform at all levels of use.