Material Handling Equipment is an important part of any large industry and their various processes. However, when we deal with power plants, it's a whole new story altogether. In this post we will talk about how cranes are used in power sector, what are the applications, and the challenges that we face while installation.
Material Handling Equipment and cranes are a crucial part of the power plants everywhere. However, they are a less discussed aspect. Power industry has very specific demands with regards to the capacity of the equipment. For instance, the equipment must be able to operate in tough conditions with minute precision and safety.
At times, there are long spells of inactivity and then a sudden burst of tasks on a short notice. This calls for reliability and time management. All of this makes application, set-up, and management of Material Handling Equipment in power sectors an important task.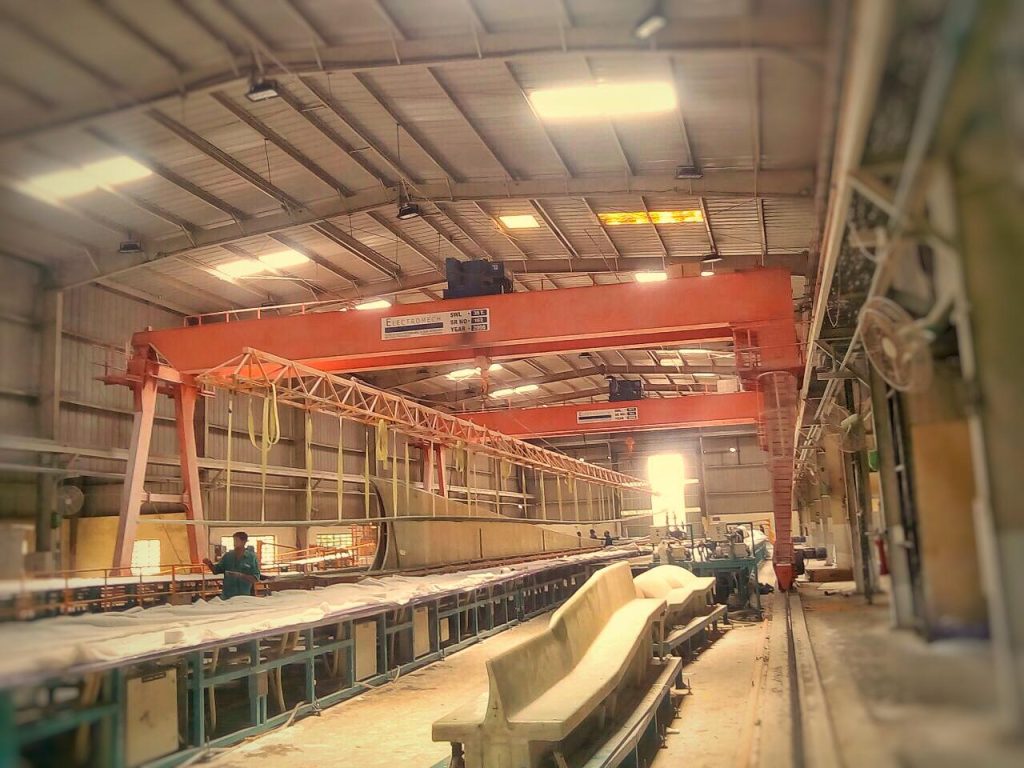 Which are the power sectors we are talking about?
Cranes and Material Handling Equipment are used in a variety of power generation plants – right from traditional sectors like hydroelectricity, thermal electricity, windmills, to the innovative and modern waste-to-energy options. All of these installations and handling come with their own stories. Let us see a few of them.
Why Material Handling Equipment in the Power Sector is a challenging job?
The first and foremost reason why this sector is challenging is because of its nature in itself. Power plants do not get built frequently. So, when they are built, the Material Handling Equipment that they have must last for a long, considerable amount of time. In some cases, the equipment is so outmoded that we need to upgrade it totally since it is an expensive affair to replace it entirely. We have to build and offer solutions that last efficiently in a long run.
How does ElectroMech help in handling solutions across the entire value chain of the power sector?
We are a part of power sector processes in three different stages – generation, transmission, and distribution. Let us see what are the applications of Material Handling Equipment at each of these levels.
Stage 1 – Power Generation
This is the initial and the most crucial stage for the power sector.
Here are the applications for variety of power plants –
Hydroelectric
In hydroelectric plants, Material Handling Equipment is used for tunnel and shaft mucking –
These plants require initial vertical shafts followed by horizontal tunnels. In this process the muck created needs a speedy removal. In tunnelling, people and material needs to be moved through the shafts on a daily basis. ElectroMech has a shaft mucking system that efficiently carries out these operations using sturdy cranes which can perform in the extreme situations. These solutions offer heights of lift in excess of 300m and high-speed operations.
ElectroMech Material Handling Equipment are also used in operating sluice gates, turbine manufacturing, and also during maintenance for handling heavy equipment like transformers, alternators, valves to control water flow.
Renewable energy – Windmills
Industrial overhead cranes play an important role in the windmill manufacturing process. ElectroMech cranes offer solutions for wind energy sector with regards to handling and storage of heavy components like generators and gearboxes. They are also important for sub-assemblies such as nacelles, blades, and towers.
At ElectroMech we have developed unique solutions to handle the sub-assemblies of the windmill such as blades and towers – two different components that use two different materials – concrete and steel. Here two or more synchronised cranes operate together for uniform distribution of load among multiple cranes. This ensures safe and precision handling.
Nuclear Energy
In a nuclear plant, the biggest challenges to operate and install Material Handling Equipment are the radioactive environment and the dangerous material. This requires special designs and high level of safety to handle material. In nuclear plants, our SFP cranes are used in reactor domes.
Thermal Energy
In thermal energy sector, Material Handling Equipment is used for in-plant handling of turbines and heavy equipment. It is also important in the critical boiler manufacturing.
All the cranes at ElectroMech are rigorously tested before despatch and installation
Stage 2 – Power Transmission
At this stage, Material Handling Equipment comes into play in two parts –
For towers, they are used in fabrication and galvanising plant.
For cables, they are used in handling the power cable reel, handling the heavy equipment during the maintenance, and for loading and unloading.
Stage 3 – Power Distribution
This is the stage where the power is distributed and reaches the actual point of use for people and industries. At this stage, material handling equipment helps in the following ways –
In-plant handling at manufacturing of transformers, control panels, and switch-gears.
Manufacturing of masts and lamp-posts
Electrical cables storage and retrieval.
This post is our effort to give you a fair idea of how important material handling equipment are in the power sector and how ElectroMech plays a major role in it. In the coming blogposts we will continue to talk about how we offer our expertise in other sectors as well. To know more, follow our updates on LinkedIn and Facebook.