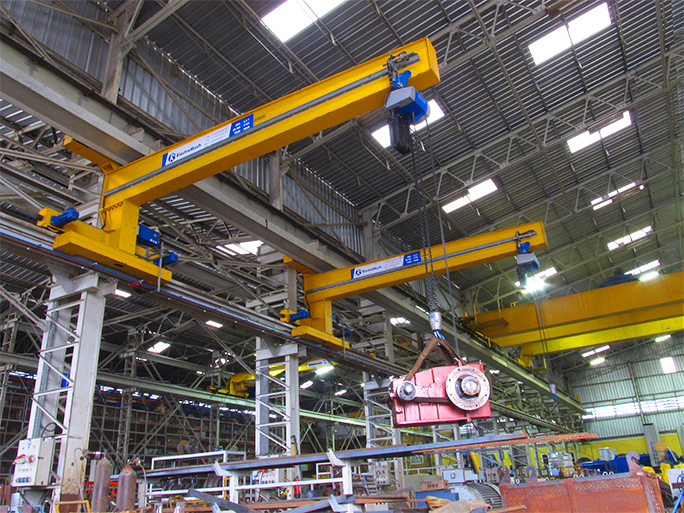 A wall travelling crane increases your facility productivity by quickly moving loads in a lateral movement without occupying much floor space. They slide horizontally along the rails mounted over the wall. They are operated below the overhead cranes assisting in various logistical operations and processes. Although, compact in size they can handles weights heavier than the standard workstation systems.
Below are the top 3 benefits of a wall Travelling Crane.
1. Requires Less Space
The most important benefit of a wall travelling crane is that it requires hardly any space for installation and to operate. They are compact, enabling the operator to carry out their daily lifting tasks efficiently. Their compactness also allows quick assembly and loading/unloading for different loads. The only thing the management needs to take care of is where to install the crane and, later, the installation process.
2. Enhanced Efficiency and Productivity
Wall travelling cranes are not just known for their compactness but also their shop floor efficiency and productivity during operations. There are many variants of wall travelling cranes available in the market. However, the central idea behind their design and engineering revolves around efficiency and increasing the overall productivity of the shop floor. They require fewer maintenance breaks that lead to less downtime and smooth working of the production lines.
3. Easy to Operate
The wall travelling cranes are mostly powered by an electric slewing drive for ease of operation. Being easy to operate makes them operator friendly and boosts productivity and overall safety of the shop floor. In addition, they assist the staff by multiplying human efforts and become an invaluable solution for a machine assembly line or a standalone workstation.
Why Choose ElectroMech?
Wall travelling cranes from ElectroMech are versatile to assist any workstation and assembly line. They offer a seamless performance experience and are a suitable companion to the overhead cranes operating in the production lines. They are ideal for applications that require speed, accuracy, and productivity with minimum downtime.
Contact our experts today to learn more about our wall travelling cranes and similar solutions!