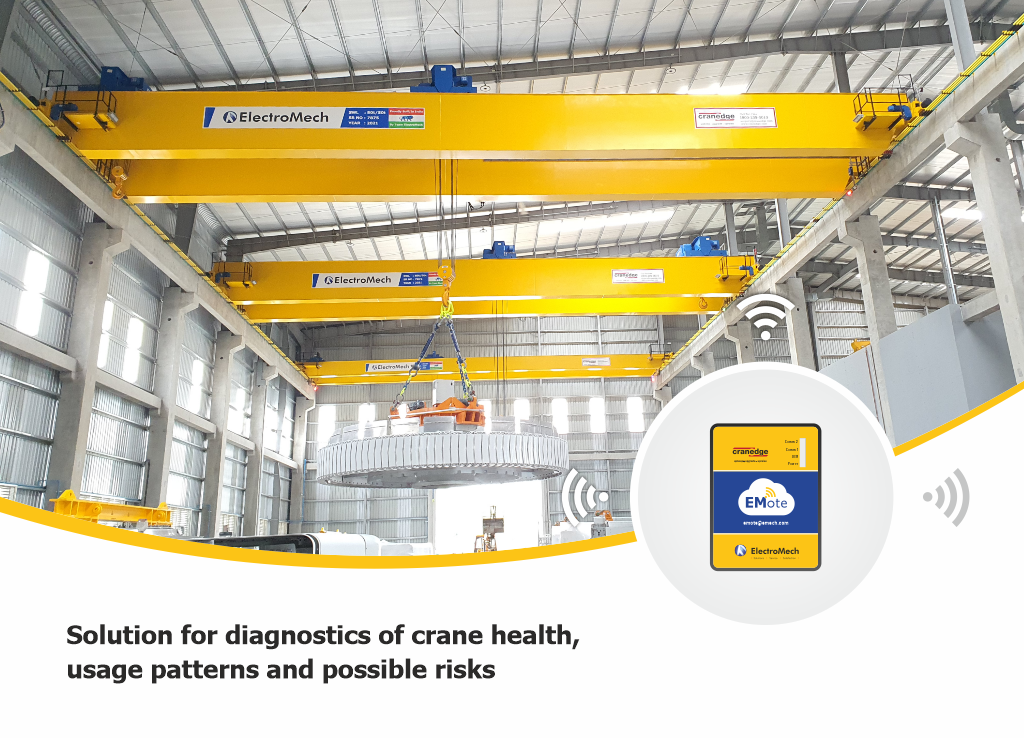 Effective use of the industrial internet helps you to connect to all the information about the EOT Cranes through a cyber-physical system. This information helps the industry to monitor the health and efficiency of their EOT Cranes and thus reduce downtime and increase productivity. With the help of EMote Technology, You can watch the EOT Crane functionality and various critical parameters to understand the performance. Emote analysis of the data and provides customers with a platform to keep a tab on their machine's efficiency and time their upgrades effectively.
While on the manufacturer's side, the data helps their research and development team to come up with new updates and improvements on their products. This information can also be used to plan and schedule preventive maintenance and ensure improved safety and prevent unplanned downtime.
At ElectroMech, we build EOT Cranes that are compatible with Industrial Internet systems and can be equipped with our diagnostics, monitoring, and analytics platform. The EOT Cranes are equipped with sensors to monitor the usage and collect operating data over a customer dashboard such as run time, emergency halts, shift-wise utilization, motions-wise utilization, supply voltage, Breakdown, Falt Summary, and work cycles.
This advanced monitoring of EOT Cranes helps in the early diagnosis of wear and tear of the parts and avoids future breakdowns. It also ensures that you get notified through text messages or email alerts on overloading, emergency situations, and halts.
EMote and EOT Cranes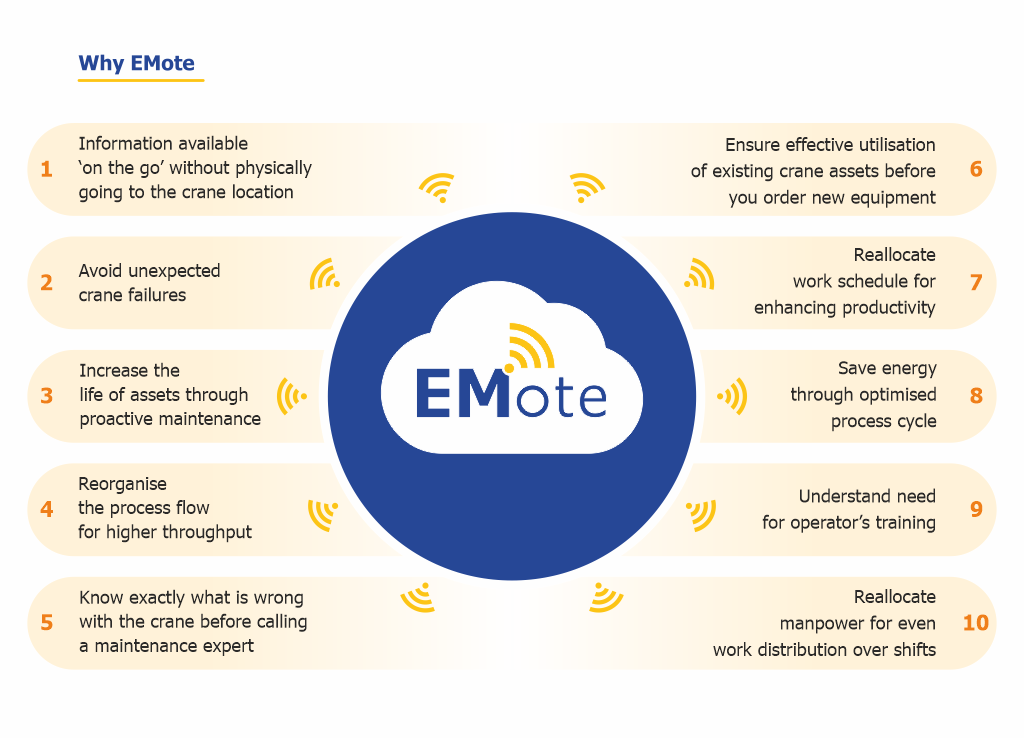 EMote makes effective use of the Industrial Internet for maximum productivity and minimizing downtime of EOT Cranes. EMote is helpful in remote diagnostics of EOT Crane health and offers remote support for maintenance. Various sensors and condition monitoring devices fitted on the EOT Crane collect and transmit data in real-time. Such data can be easily accessed by the customer and the EOT Cranedge team through a portal to make an informed decision about maintenance. This data can be used along with our knowledge and experience to provide insights that help our customers to effectively schedule their maintenance operations and activities. Promptly attending to such maintenance issues helps in improving productivity and workplace safety.
EMote generates real-time data on the operating conditions of EOT Cranes based on the following parameters:
Number of incidences of non-adherence to safety norms and crossing critical limits such as motor overheating, EOT Crane overloading, etc.
Statistics related to EOT Crane operations such as a number of operating hours, start-stops, etc.
Actual Vs Designed Crane utilization pattern.
Pareto analysis of critical warnings and alerts
By using EMote, the Cranedge team can provide remote support for appropriate EOT Crane operations as well as for troubleshooting. This way, you have access to expert advice 24×7 and at any extremely remote location. The two-way communication between EOT Cranes and their operators helps in expediting the troubleshooting process during emergencies.
EMote has been designed and manufactured in order to equip not just an EOT Crane manufactured by ElectroMech but also EOT Cranes of other makes for remote monitoring.