Growth in infrastructure sector has tremendous benefits on the economy of the country. Also, building a sustainable infrastructure for better connectivity is of utmost priority and a symbol of development for any state or country. A wide variety of material handling solutions are used in the infrastructure projects such as construction of bridges, roadways, metro rail projects, tunnel mucking, miscellaneous handling and precast manufacturing etc. Heavy duty gantry cranes are the most popular material handling equipment for such projects, however, other equipment such as Forklifts, Lift Trucks and Rough Terrain forklifts. also play an important role in off-road material handling.
Why ElectroMech?
ElectroMech boasts of one of the largest crane manufacturing facility in India with over 7000 cranes commissioned successfully in more than 60 countries across the world. Its rich experience and presence for over four decades makes it the most preferable material handling solutions provider in the sector.
Advanced technology, efficient, safe, reliable, and customized material handling solutions is our forte.
Having handled multiple projects across the sector at multiple locations have helped us accumulate data and expertise that is unmatched and makes us the 'go-to' business partner for any project. Our 200+ team of specialists instill confidence among our customers.
Our after-sales service arm, Cranedge, offers retrofitting, modernization, and relocation of assets, thereby helping the infrastructure companies to reuse the assets than buying new ones.
Apart from heavy duty gantry cranes, we also have expertise in off-road material handling solutions such as forklifts and lift trucks with add-on equipment for precast handling of products such as concrete blocks, pipes or wall section.
Material Handling in Infrastructure and its Applications
Bridges & Roadways:
For bridge construction projects, handling of precast segments is the major application. Heavy duty gantry cranes are used mainly for handling precast segments, concrete moulds, reinforcement bars and other related raw material and finished goods at the construction site. ElectroMech has supplied customized solutions in multiple projects with lifts capacity ranging from 50t to 200t.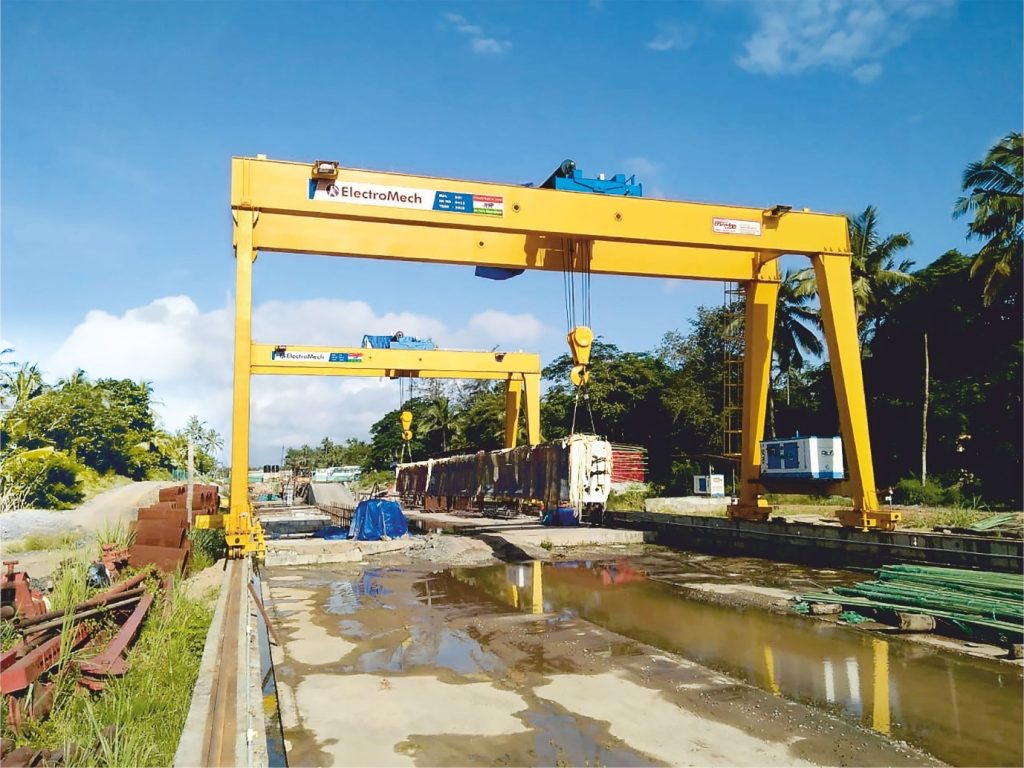 Metro Rail Projects:
Apart from handling precast segments through gantry cranes, tunnel mucking solutions are deployed for underground metro tunneling operations for handling TBMs and tunnel lines. Having worked on metro projects in India and abroad, ElectroMech specializes in providing solutions that are compact and flexible.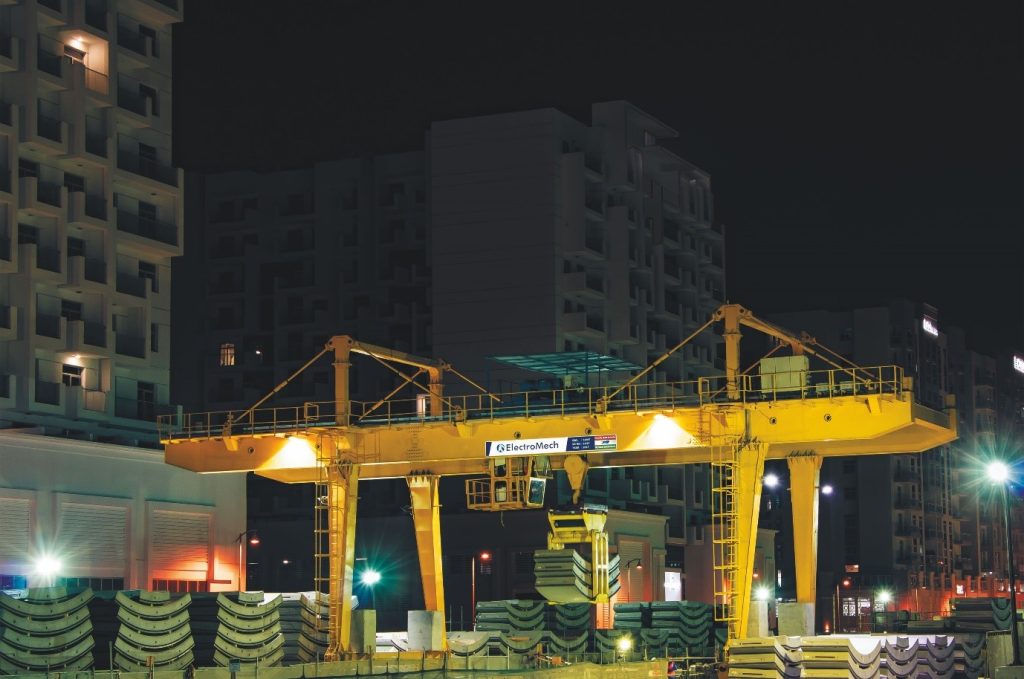 Flyovers & Expressways:
Flyover construction are carried out mainly in densely populated cities that pose a challenge of space constraint. This demands for material handling solutions which can operate and efficiently handle heavy loads at narrow spaces. ElectroMech has provided customized gantry and semi-gantry crane solutions to many iconic projects for handling precast segments in the casting yards. These rugged solutions are engineered to work round the clock and have been deployed on several challenging flyover construction projects in India and abroad.
Precast Manufacturing:
Modern day homes, walls, slabs, beams and footings of the high-rise buildings are precast from standardized moulds with advanced technologies, which reduces a considerable amount of construction time. ElectroMech has provided EOT and gantry cranes in precast manufacturing yards and plants which also include handling of steel bars, moulds. They can also be designed with girder overhang on either side of the span and with multiple hoists on the same crane to increase efficiency.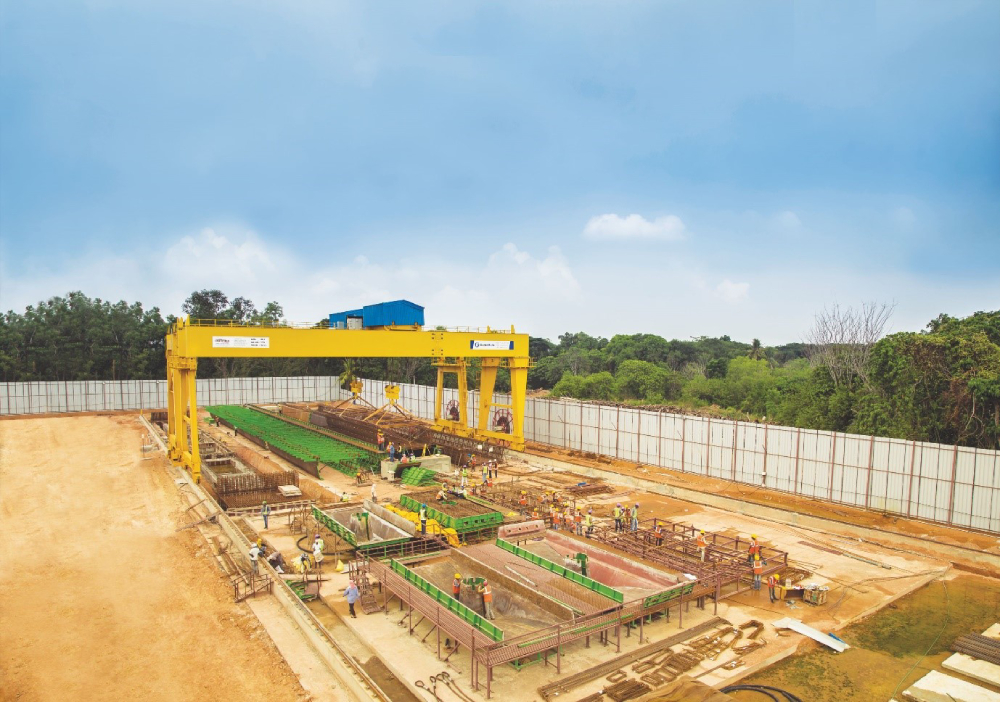 Tunneling & Irrigation Sector:
Infrastructure projects such as underground metros, hydro-electric power plants, underground water tunnels, sewerage tunnel projects require initial vertical shafts and then subsequent horizontal tunnels to be built. ElectroMech tunnel mucking systems are an innovative solution of these operations with precision, high speed, and assured enhanced safety.
Miscellaneous Handling:
Valuable loads such as precast concrete, bulky cement pipes, bricks, concrete blocks, steel pipes, wall sections and other fragile building materials need to be handled with precision and efficiency. ElectroMech, in association with Hyster-Yale and Maximal, offers a range of forklifts, lift trucks and rough terrain forklifts, specially developed to meet various infrastructure sector application requirements.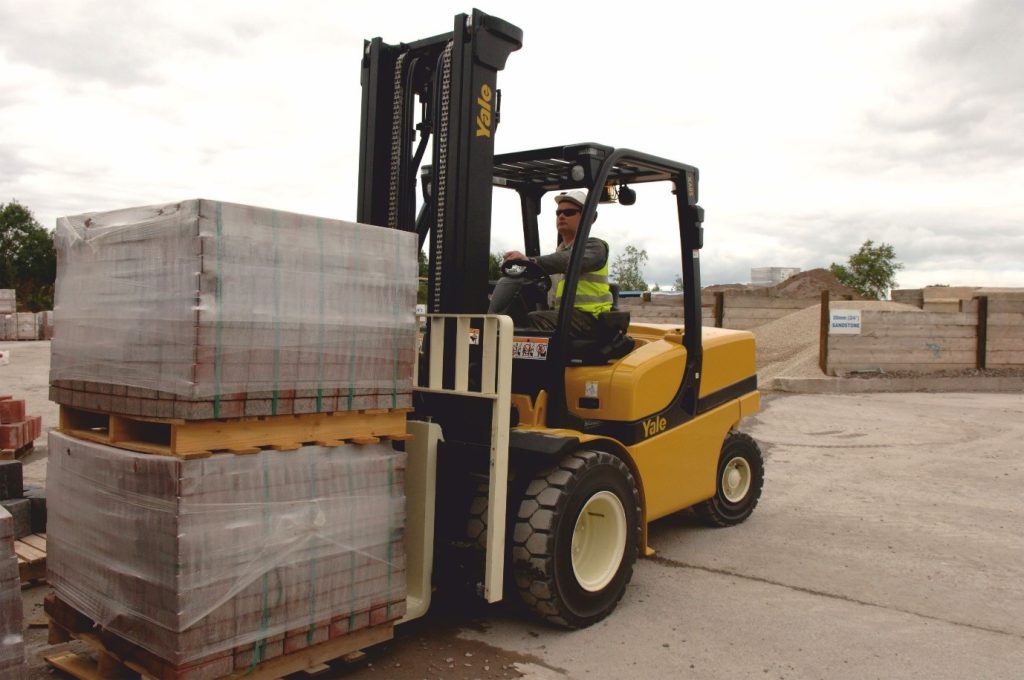 ElectroMech with its customized & unique solutions, optimal designs, high manufacturing standards, superlative quality and efficient service make us a reliable partner for any infrastructure project. ElectroMech with its significant presence in over 60 countries and offices and factories in Dubai, Abu Dhabi and Indonesia, is marching forward towards becoming a global brand of repute.